Canyon Ridge Collection
Ultra Grain Series
FAUX WOOD CARRIAGE HOUSE GARAGE DOORS
Insulated carriage house garage doors with faux wood and ultra-grain® steel.
An attractive and economical alternative to the Limited Edition Series, this door features a 2″ Intellicore polyurethane steel base with Ultra-Grain, a durable, natural-looking, wood grain paint finish. Stained Clear Cypress composite overlays are applied to the steel door surface to create beautiful carriage house designs.
We pride ourselves in customer service
Commitment to customers is the cornerstone of our business's success.
At Royal Garage Door, you're treated like our neighbor, because you are. Over the years we have worked hard to build a solid reputation, with the majority of our business coming from referrals by our previous customers.
Overview
Design Options
Construction
Brochure
Installation & Care
Overview
Clopay Canyon Ridge® Carriage House (4-Layer) garage doors bring together the carriage house designs of the past and today's technology, functionality and energy efficiency. These doors are constructed with steel for strength and durability, and molded composite overlays for beauty and realism. These doors feature:
4-layer construction: steel + insulation + steel + composite overlay.
Faux wood-look composite overlay available in Clear Cypress for Ultra-Grain® color options and in Mahogany for solid colors.
Colors include: Ultra-Grain Walnut, Ultra-Grain Medium, Ultra-Grain Slate, Black, White, and Primed. (Additional Options)
2″ Intellicore® polyurethane insulation with a thermal break. R-Value of 18.4.
WINDCODE® door reinforcement product available for high wind load applications. (Click for details)
Environmental Assurance
Clopay doors are compliant with environmental laws and regulations. Clopay doors do not contain HFCs. All Clopay doors are compliant with:
California SB 1013
Washington HB 1112 – Hydrofluorocarbon Greenhouse Gas Emissions
Canadian regulations amending the ozone-depleting substances and halocarbon alternatives regulations
New Jersey A-5583/S-3919 – Greenhouse Gas Bill
QuickDraw Tool
Door Designs
SERIES 1
DESIGN 11
DESIGN 12
DESIGN 13
SERIES 2
DESIGN 21
DESIGN 22
DESIGN 23
SERIES 3
DESIGN 31
DESIGN 32
DESIGN 33
DESIGN 34
DESIGN 35
DESIGN 36
DESIGN 37
DESIGN 38
For more information regarding construction options per panel style, click here
Top Sections
SOLID TOP SECTIONS
TOP11
TOP12
TOP13
ARCH1
WINDOW DESIGNS
REC11
REC13
REC14
SQ23
SQ24
ARCH1
ARCH3
ARCH4
ARCH13
ARCH14
DOUBLE TOP SECTIONS
ARC1A – SOLID (Double Door)
ARC1A – WINDOW (Double Door)
ARC3A – WINDOWS (Double Door)
ARC4A – WINDOWS (Double Door)
ARC13A – WINDOWS (DOUBLE DOOR)
ARC14A – WINDOWS (DOUBLE DOOR)
Specialty Glass Options
SEEDED
RAIN
FROSTED
OBSCURE
Material Options
COMPOSITE OVERLAY MATERIALS
Mahogany
Clear Cypress
STEEL BASE DOOR MATERIALS
Ultra-Grain® Finish Clear Cypress or Solid Color Steel
Colors
ULTRA-GRAIN® CYPRESS MEDIUM FINISH
ULTRA-GRAIN® CYPRESS WALNUT FINISH
ULTRA-GRAIN® CYPRESS SLATE FINISH
BLACK FINISH
WHITE FINISH
PRIMED(NO FINISH)
Hardware Designs
HANDLES
SPADE LIFT HANDLES
(included)
SPEAR LIFT HANDLES
COLONIAL LIFT HANDLES
DECORATIVE LIFT HANDLES
RING DOOR KNOCKER
ESCUTCHEON PLATE(S)
TWISTED "L" HANDLES
HINGES
SPADE STRAP HINGE
SPEAR STRAP HINGE
COLONIAL STRAP HINGE
PLATES
SPADE STEP PLATE
SPEAR STEP PLATE
COLONIAL STEP PLATE
Clopay® Canyon Ridge® Carriage House (4-Layer) garage doors are built with a strong base door and overlays. The faux wood-look composite overlays are low maintenance, durable and won't rot, warp or crack.
Warmer. Quieter. Stronger.
Garage doors featuring Intellicore
®
insulation technology represent the ultimate smart choice for homeowners. Clopay's Intellicore
®
is a proprietary polyurethane foam that is injected into a garage door, expanding to fill the entire structure. The result is a door with incredible strength, energy efficiency and durability.
(Click for details)
Door sample shown in Medium Finish.
Replaceable vinyl bottom weather seal in rust free aluminum retainer helps protect against the elements.
High performance nylon ball bearing rollers help ensure smooth, long-lasting, quiet operation.
Heavy-duty 14 gauge steel hinges and brackets for smooth and worry-free operation.
Window grilles are removable for easy cleaning.
Safe-T-Bracket® – Prevents serious injury that could occur if the bottom bracket were removed with the garage door closed and under tension.
Rust-Prevention System – Steel skins are protected through a tough, layered coating system, including a hot-dipped galvanized layer, a protective metal oxide pretreatment and a baked on primer and top coat.
Product complies with 2015 IECC air infiltration requirement of 0.40 cfm/ft2 or less (IECC, Section C402.5.2)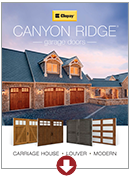 Canyon Ridge Brochure
Ultra-Grain Paint Option Brochure
Products available through Independent Dealers
See what Kansas City is saying about Royal Garage Door.
Just as I'm about to leave town, a spring on my garage door broke. Gary put me at ease and explained how he and his team could help. Upon my return, all was fixed and the door works/is quieter than it has ever been before! Thanks, Royal Garage Door!
-Rodney D. Lenexa, KS
Same day service! Garage door cable broke yesterday. I called this morning and they got to is this afternoon. Friendly serviceman too.
-Barbara G. Lenexa, KS
Fast, came out the same day. They came out to fix my springs and it cost me 1/3 of what I paid garage door guys a few months before! Wish I would knew about them then. Also replaced my opener a couple days later.
-Tatiana M. Grandview, MO